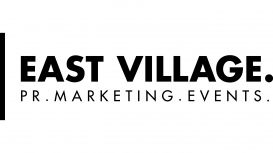 Birmingham PR agency, East Village. Is an exciting and innovative agency that specialises in PR, Marketing and Events for retail, Hotels and leisure brands.
We stick to what we're good at and focus only on what we know. We're not in the business of over-selling ourselves so each and every project, client, brand and campaign is provided with a bespoke service. We'll work side-by-side with you to figure out exactly what you need and devise the best way to deliver it.
From behaviour change projects and business marketing strategies, to consumer campaigns and launch events, EV. will work with you to get your messages out to the right audiences through the right channels. It's as simple as that. Whether you're a new product launching into the market, an online retail brand, a sporting venue, holiday destination or retail asset, we want people through your doors and onto your websites to experience the best of what's on offer.
We work with clients that complement each another, with the hope of securing opportunities that benefit multiple clients. EV. is like one big family!
The business was set up by Tara Tomes in 2013 and whilst the agency is relatively new to the scene, our team most certainly is not. Between us, we've got over 15 years' experience across the three industries, having worked with international brands and multi-national companies, as well as SMEs and one-man-bands. From Stella McCartney, Cadbury and the NEC Group, to Retail Birmingham, Wolverhampton Art Gallery and Aston Villa Football Club… the people behind EV. have worked with some great brands.
---
Reviews and Ratings
We do not have any reviews about East Village Agency available right now.